I've seen this design used in different variations and with different size boxes. I've been using this particular example for years and years. Anytime I have a ton of photos and don't want to spread them out over several pages, I rely on my trusty grid layout. I can fit 9 photos. I can fit 6 or 7 or 8 photos with journaling and embellishments. All of the squares are 3x5" x 3.5." You can fill the boxes with a title, journaling, photos, embellishments. It doesn't get any easier. Enjoy!
Here's a few of my own layouts. For this birthday party layout, I used the above design for the right page and did a simpler design on the left.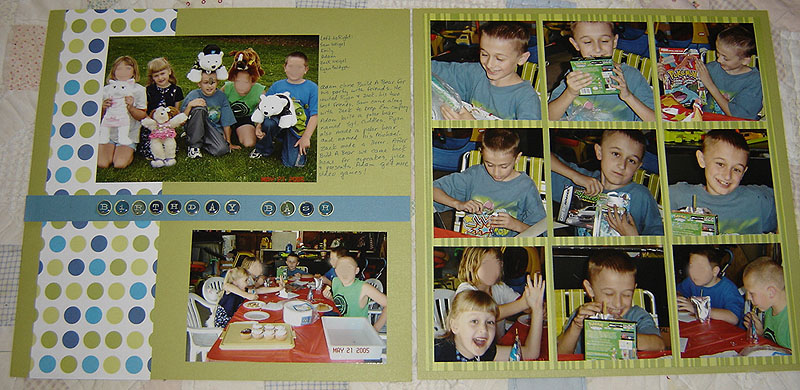 This is a lousy scan of an old layout. The photos look a little taller than 3.5" but it's the same basic design. I got 10 pics and a large block of journaling on two pages.
Here's a single page layout with lots of journaling and six photos.
Colleen
submitted these two colorful layouts!
Heather submitted this layout. Look at the cute bugs!